ID.HEIJUNKA – E-Kanban meets planning board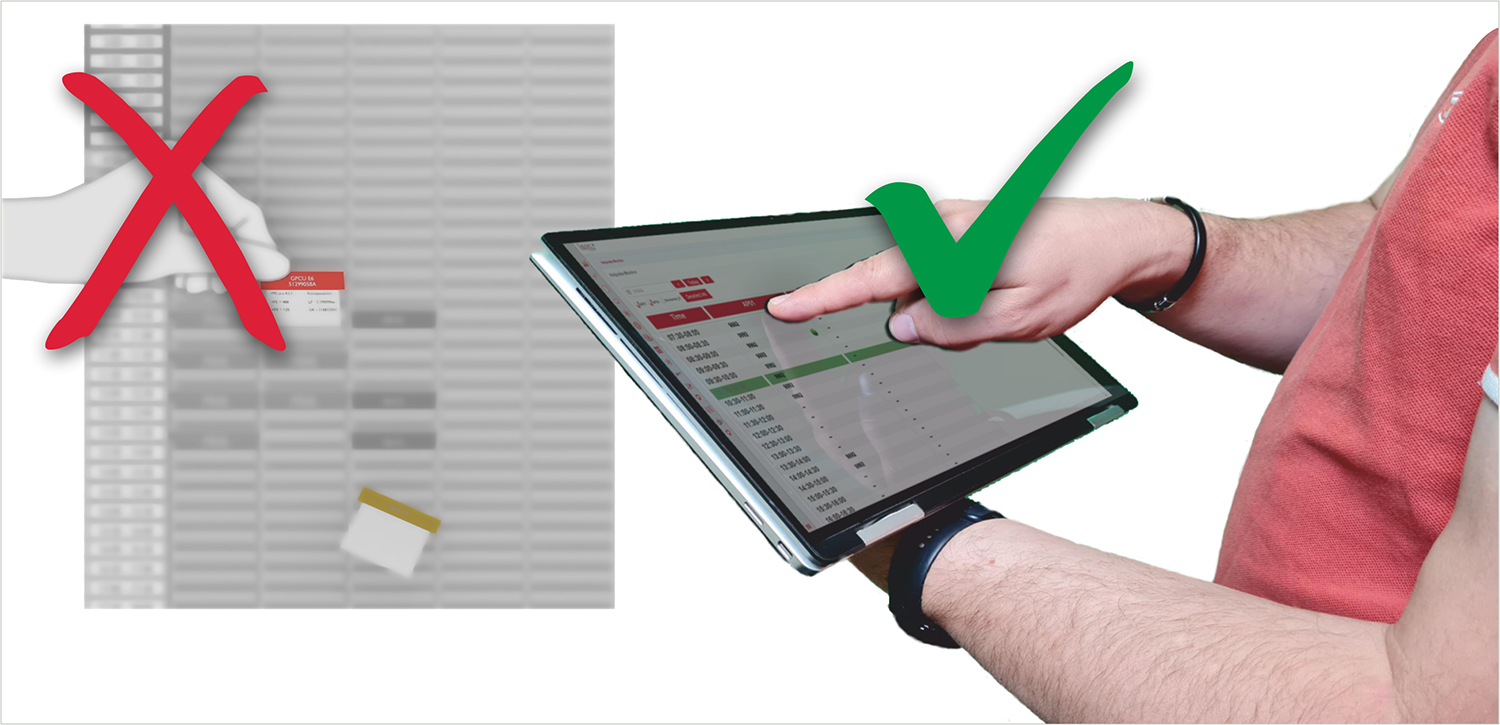 ID.HEIJUNKA is a smart planning system that supports the organization and coordination of processes such as the transport of semi-finished products to the pre-assembly workstation in the manufacturing industry. It transforms the functional principle of the classic, manual Heijunka board into a purely digital solution that enables efficient and error-free planning via app.
What is a Heijunka Board?
A Heijunka Board is a visual tool used in production to support production planning and control. It is an important element in lean manufacturing and helps smooth out fluctuations in demand and smooth out the flow of production.
The classic, manual Heijunka board is divided into rows and columns that describe different time periods as well as products and production orders. In this way, sequences and production flows can be defined, organized and synchronized.
The goal of the Heijunka Board is to plan production in such a way that demand is distributed as evenly as possible over a given period of time. A clear overview of the current status of production enables companies to identify bottlenecks or problems at an early stage and respond accordingly.
Problems and challenges of the manual Heijunka Board
The process of transporting semi-finished products from incoming goods to pre-assembly workstations is controlled by a manual Heijunka Board in classic industrial companies. This contains the following information:
Pre-assembly workstation
Time window
Material details
Quantity
Planned changeover (setup times)
However, this scenario presents some challenges. For example, the workstations in prefabrication are faced with constantly changing work orders. Thus, the workstations must always be supplied with changing replenishment material. This situation pushes many classic Heijunka solutions to their limits.
In addition, manual Heijunka boards are always prone to errors. For example, due to human error, boards are repeatedly inserted into the wrong slot or even lost. The latter especially has serious consequences, because lost cards are equivalent to a loss of material.
Notice:
The result of this error chain is that incorrect or incomplete information is provided to the line feeder responsible.
Optimize production planning with ID.HEIJUNKA
As a purely digital Heijunka board, ID.HEIJUNKA eliminates any manual processes in production planning and control. Instead of a planning board with physical cards, planning processes now take place in the ID.HEIJUNKA app. With the drag-and-drop function, orders can be easily assigned to specific workstations.
The measures enable intralogistics to synchronize with production planning online and optimize logistics processes in this way. In particular, the connection to existing SAP systems and the production plan contained therein is of great advantage for increasing efficiency.
The smart solution also envisages equipping manufacturing with special sensors that automate demand reporting. The system informs the line feeder and order picker that a certain requirement has arisen in pre-assembly, and the line feeder responsible can then remove the required materials from the supermarket and load them onto the tugger train. Driverless systems for KLT replenishment such as ID.ADD can also be used particularly efficiently in this context.
Read more
ID.HEIJUNKA – the benefits at a glance
The implementation of ID.HEIJUNKA simplifies the picking and linefeeding processes, minimizing the logistics effort. This results in a large savings potential for the company. ID.HEIJUNKA offers the following advantages in detail:
"Search and find" through permanent scanning process is eliminated

Securing of the outgoing goods process

Leveled process without peaks at the beginning of a shift

Reduction of stock in production

Reduction of stock differences between warehouse and production

Elimination of special trips and emergency trips
Last but not least, ID.HEIJUNKA makes a significant contribution to the paperless factory. This is not only practical and reliable, but also future-proof and sustainable in the long run.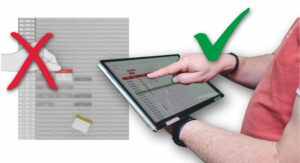 Digitize Heijunka Boards now with ID.HEIJUNKA
ID.HEIJUNKA is the leading solution for replacing manual Heijunka Boards with a digital system. The return on investment (ROI) of ID.HEIJUNKA is less than one year, according to evaluations in cooperation with our customers.
If you would like to optimize planning and organizational processes in your industrial company with the digital Heijunka Board, please contact the IDENTYTEC® team. We look forward to your inquiry.
FAQ – frequently asked questions about ID.HEIJUNKA
What is the advantage of a digital Heijunka board?
Manual Heijunka Boards prove to be error-prone in practice; after all, the classic Heijunka cards can get mixed up or disappear due to human error. Furthermore, they do not always meet the challenges of modern productions with constantly changing replenishment material. A digital Heijunka board enables easy and reliable control of production planning as well as connectivity to existing software systems.
What is a typical use case for an electronic Heijunka Board?
A typical use case for an electronic Heijunka Board is the transport of semi-finished products to the pre-assembly workstation. A solution like ID.HEIJUNKA helps to ensure that production and replenishment planning is optimal.
Formular
You are welcome to simply send us your contact details and your request and we will contact you immediately.
Choose your variant
Other products